Well, if you're going to go 0-4 on the teams you would like to see win, at least only 3 of the 4 games were crushing.
At least Bradley had the decency to get blown out. Duke played one of the worst games I can remember a Blue Devil squad playing, and still was
right
there.
Sweet comeback by WVU, and then a scrubby-scrub makes an off-balance, leg-splayed, eyes-closed 28 foot heave at the buzzer to beat them. [Edit - Ok, Paulino is a
42%
3pt. shooter. It was still a ludicrously bullshit shot.)
Gonzaga simply commits one of the epic chokes in modern sports histories. In fact the only good thing to come from today is that I can remind my readers that the Zags choke was at best #2 in the last 2 years.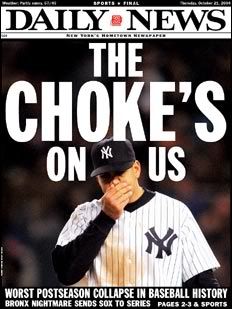 Happy Place
I'm not even sure how to use my empircally demonstrated evil-hexing powers for tommorow. I want Washington and Georgetown to win, would prefer George Mason and mostly just want a good game between Nova and BC. So, naturally, Marcus Williams (Felony Included) will score 35, and run down press row slapping fives while snatching laptops. Georgetown will shoot 16 percent from the field. Wichita State will win in a game that looks like one of my old D-III Jv games, letting Packer crow about how bad mid-majors are, and BC-Nova will end up 37-33 in a game worse than the Wisconsin-Michigan State semifinal from a few years back.
I love the madness...