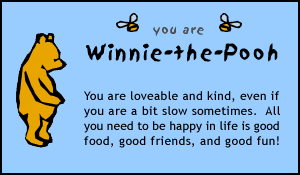 Take the 100 Acre Personality Quiz!


As for The Muppets...of course, I'm the cranky critics, Waldorf & Statler


Update 2/10/06: Since bad meme's come in threes...(via bill)
You scored as Serenity (Firefly). You like to live your own way and don't enjoy when anyone but a friend tries to tell you should do different. Now if only the Reavers would quit trying to skin you.